ENDOCENTRIC COMPOUND IN NOVEL BETRAYAL BY DANIELLE STEEL
Keywords:
endocentric compound, Betrayal Novel, Novel type and structure
Abstract
The aims of conducting the study are to analyze the types and the structure of endocentric compound found in the novel Betrayal by Danielle Steel. Endocentric compound is type of compound words based on semantics relation between head and modifier. According to Delahunty & Garvey (2010) endocentric is a compound which represents a subtype of whatever the head represents. The source of the data was novel entitled Betrayal written by Danielle Steel and published on July 2012. This study used theory by Carstairs-McCarthy (2002) to analyze the types of endocentric compound based on lexical categories and theory by Lieber (2009) to identify the structure of compound. The study belongs to library research since the data used is a novel. In analyzing the data, the researcher used quantitative qualitative method. This study applied observation method in collecting the data. Based the analysis there are found 71 data of endocentric compounds.  They were divided into 60 data of compound noun, 1 data of compound verb and 10 data of compound adjective. The structure of compound presented by using tree diagram and dominantly form by two elements.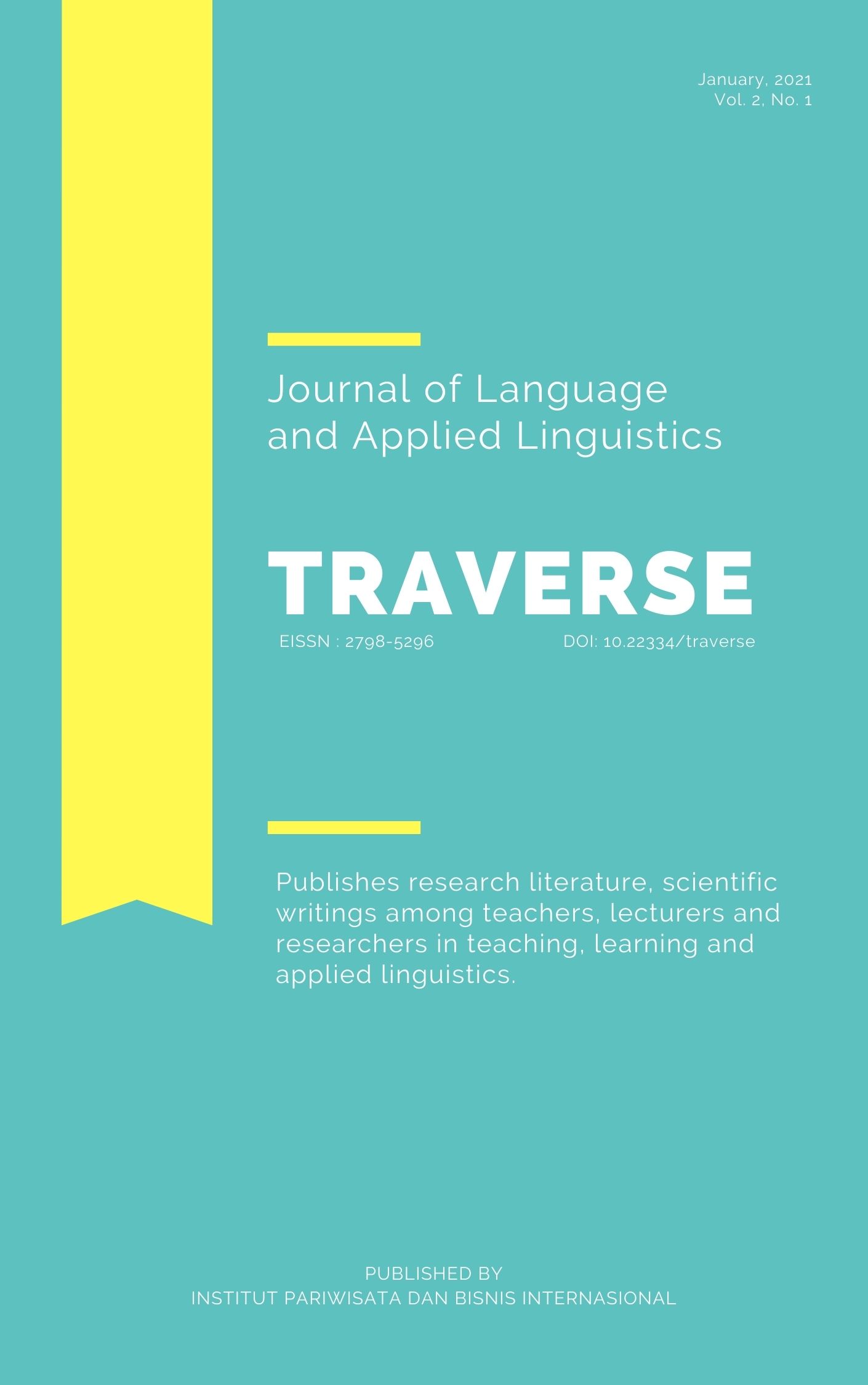 How to Cite
Dewi, N. M. E. S., Sulatra, I. K., & Maharani, P. D. (2021). ENDOCENTRIC COMPOUND IN NOVEL BETRAYAL BY DANIELLE STEEL. Journal of Language and Applied Linguistics, 2(1), 32-45. Retrieved from https://traverse.asia/index.php/traverse/article/view/4
Copyright (c) 2021 Ni Made Endri Santika Dewi, I Komang Sulatra, Putu Devi Maharani
This work is licensed under a Creative Commons Attribution-ShareAlike 4.0 International License.